What is the EACTP?
The European Association of Certified Turnaround Professionals (EACTP) is an independent organisation created to establish the first ever European-wide accreditation programme for all turnaround professionals across the continent.
Our pioneering programme aims to promote high standards in turnaround management by delivering a respected pan-European certification scheme based on the Turnaround Management Association (TMA) Global Certified Turnaround Professional (CTP) programme.
The EACTP accreditation provides an industry standard 'kitemark' of quality in the practice of turnaround and restructuring, and will give members a professional edge in a competitive field by offering prospective clients an instantly recognisable assurance of turnaround experience.
Our scheme offers benefits for both the practitioners and buyers of turnaround management skills by providing a real benchmark against which restructuring professionals can be measured. In a competitive field becoming certified gives our members a distinct advantage over colleagues who aren't; it will enhance their careers and their standing in the provision of turnaround management expertise.
Jukka-Pekka Joensuu, president of the EACTP
Our certification programme is open to all professionals involved in turnaround management, including lawyers, bankers, accountants, insolvency practitioners and managers.
It offers levels of membership to cater for turnaround managers at all stages of their career from those just starting out to those with many years' experience.
Leading turnaround professionals from across the continent sit on the EACTP's board and committees to set strict admission criteria and oversee the stringent certification process. This ensures that only those practitioners able to demonstrate relevant academic qualifications, skills, experience at a significant and substantive level, and continuing practice may be entitled to become and remain members.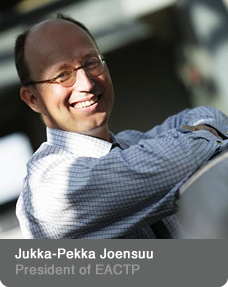 Latest
EACTP updates
25 Jan
The long-awaited reform of the Italian insolvency and pre-insolvency procedures, together with...
10 Dec
The 29 March 2019 is approaching and uncertainty persists. As with many...