CTP Mastermind: Chapter 11 from a CTP Perspective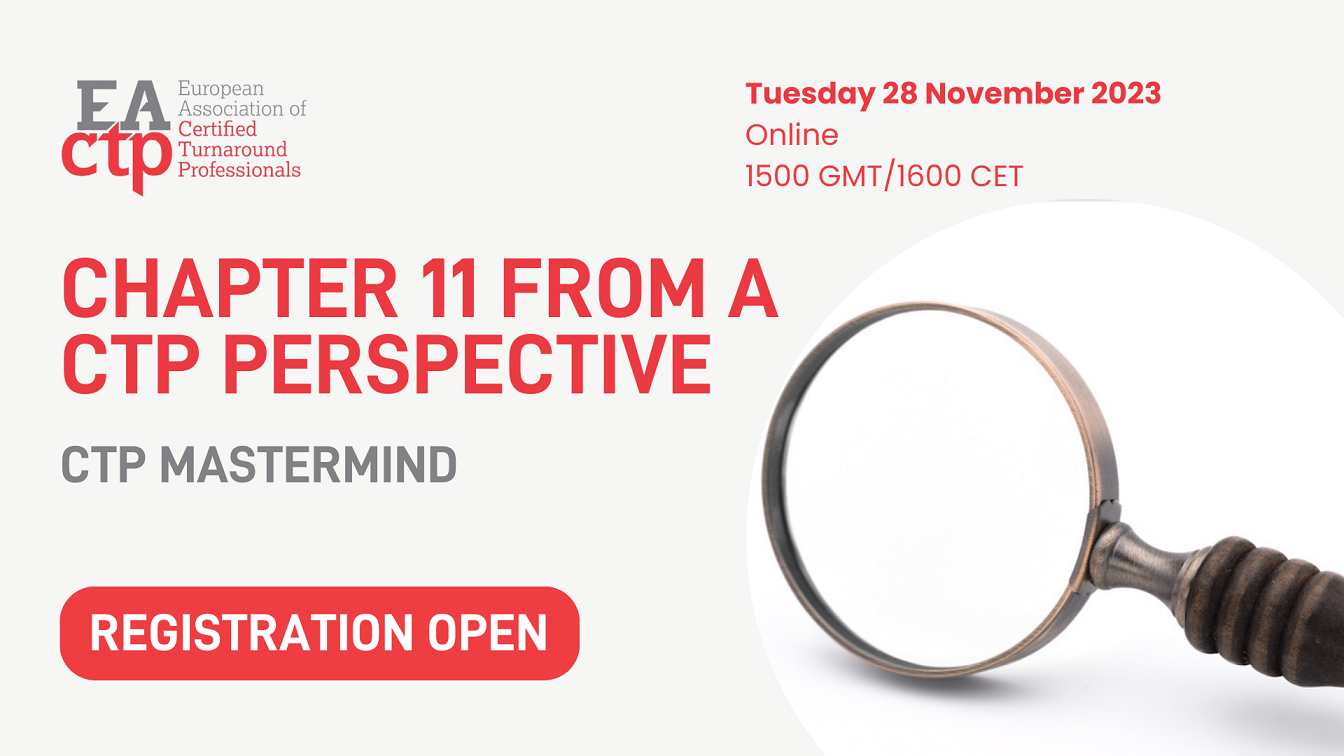 Join us on 28 November for EACTP's Mastermind Webinar where Matthew English will lead a high-level session on Chapter 11 from a CTP Perspective.
3-4pm (GMT) 4-5pm (CET)
Online
Open to all, including non-EACTP members!
Comprising of a presentation, case study and group discussion, Matthew English, CTP, CIRA, Senior Managing Director at Arch + Beam will be leading this session.
At the EACTP's TURBOCHARGED TURNAROUND workshops in March, Matthew gave a highly informative and interesting talk on US Chapter 11 bankruptcy processes and options. Met with overwhelmingly positive feedback, this Mastermind will see Matthew extend his expertise to a wider audience and provide attendees with a chance to learn from Matthew's extensive real-life experience and specialist knowledge.
About the speaker:
Matthew English, CTP, CIRA, Senior Managing Director at Arch + Beam
Matthew has over 30 years of experience as a strategy, operations, finance, and turnaround consultant and has a proven track record of helping small, middle-market and multi-national companies improve performance and restructure operations. He has extensive experience, acting as financial advisor, turnaround consultant, plan administrator, chief restructuring officer (CRO), assignee and bankruptcy advisor on multiple engagements.
He was the 2022 Global Chair and 2021 Global President of the Turnaround Management Association and the Past-President of TMA Northern California, and previously with Deloitte and Accenture.
Event pricing:
EACTP Members €30
Non-Members €60
Find out more and buy your ticket here.
About the EACTP:

The focus of the European Association of Certified Turnaround Professionals (EACTP) is to educate, train and certify turnaround professionals and for the CTP qualification to be recognised as an industry-standard 'kitemark' of quality in the practice of turnaround and restructuring.
It aims to promote turnaround ahead of insolvency, thus saving more jobs and value in the public and national interest.
The EACTP promotes the benefits of turnaround ahead of insolvency through engagement with shareholders, company directors, business management organisations, creditor groups and governments.
Share this page: